6 Essential Things To Look For When Buying A Kick Scooter For Kids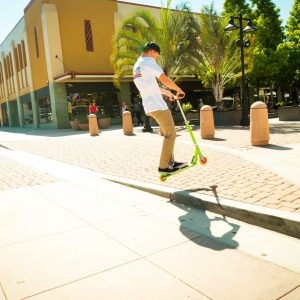 Choosing a kick scooter for kids is a bit more complicated than selecting a kick scooter for a teen or an adult. Well, if your little one is full of beans then getting them a right scooter is considered to be a superb idea because it will definitely help them to burn off some extra energy!
And yes, with so many different types of kick scooters available, it can be a bit hard to pick the correct one for your dear kid. And as the fact states, kids always love playing around on scooters; they always demand a kick scooter. In fact, they're really quick at learning grips and techniques of pushing themselves along and really enjoy picking up their speed.
Well, we can say that for every youngest, it's a really nice way of developing psychomotor skills. And when it comes to choosing a kick scooter that is not only stylish in looks but also highly safest for your kids to ride, Swagtron is the one you can definitely go for!
Hence, to make sure your kids are learning to ride in the best possible situations, it's important to choose the right one – This is where Swagtron comes into the picture. So before stepping ahead to select one for your kids – take a look at our guide to kid's kick scooters for some handy advice.
Let's start the show!
1. What Is The Age Of Your Kid
You might be thinking that how come age is important in this factor? Well, it is! Picking the right scooter type and size for your kid's age means that they're definitely going to have greater fun; no matter they are riding to the school or simply playing the park.
But, if we choose an appropriate kick scooter according to their age, it will help them to learn easily. Usually, younger kids at the age of 2 have already all the necessary skills to ride a kick scooter, all they need is just a little understanding and that's it, they're all set to go!
But the first thing to consider when selecting a kick scooter for your kids is the number of wheels. There are scooters that are available with two wheels, three wheels and four wheels as well.
Kids with the age of 2-3 years
For kids aging between 2-3 years, it is always good to go for a three-wheeled or a four-wheeled kick scooter. Well, it will be easy for them to learn riding and handling it. In, fact a 3 wheeled kick scooter is the best suitable because it is not heavier in weight and easy to handle. And when it comes to a 3-wheeled kick scooter, Swagtron has something that you've been looking for! Swagtron K2 toddler scooter has various features such as easy to port, more stability, meets all the safety standards set for kids and a lot more things.
Kids with the age of 3-5 years
When it comes to choosing a scooter for kids aging between 3-5 years, it is advisable to choose a two wheeled model in kick scooter. Because using this type of kick scooter will not only help your kids to learn riding but will also teach your child to gain speed, braking and control. And as far as the safety is concern, Swagtron K1 kick scooter sounds a good choice. It contains various features such as adjustable stem, precision riding, folds and locks, easy to port and more.
2. How Does It Look?
When it comes to kids, apart from riding, the other thing which they consider is the look and how attractive is the kick scooter? So, it is always advised to go for a kick scooter for which your kid says "wow". Hence, don't purchase anything that might embarrass your kids while they're having fun with their friends.
3. What Is The Speed?
Speed is considered to be one of the most important factors while buying a kick scooter for your kids. Ask the seller, does it glide smoothly? Is it too fast or big for your kids? Well, adults should always feel free to ask the seller or even try them out. This will help in giving a good assessment about the product.
4. What Are The Features Of The Kick Scooter?
These days, no matter it's an adult scooter or a kick scooter, they are definitely more advanced. Well, we can say that they're definitely more than the traditional wooden plank with a handle and wheels. Hence, whenever you're up for buying a kick scooter for your kids, make sure you're well aware of the features.
5. How Safe It Is To Ride?
The biggest thought that comes to our mind when purchasing a kick scooter for kids is the safety. Well, this is a hard one to assess as we're not sure there's any such thing as a safe kick scooter. But with the help of the ratings and the reviews, you can easily make out that whether the product you're going for is safe enough for your kids or not!
6. What Is The Weight Of The Scooter?
Tell me one thing, if the kick scooter you're choosing is heavy in weight, will it is convenient for your kids to ride around? Of course, not! This is an important factor when the scooter is falling on the top of your kid. In fact, it's also relevant when you have to carry it back from the part or the streets when your kid refuses to ride it.
Well, now you might have come to know that what things are to be considered when buying a kick scooter for your children, but apart from this, it is also important to discuss about the safety of your kids.
What Are The Safety Measure To Follow?
The safety of your kids is paramount. Hence, when purchasing a kick scooter for your kids, it is important to ask for some extra safety accessories such as helmets, knee pads, gloves, guards, and more. Wearing them is necessary because it is most likely that your kid will fall, and off their hands and legs are going to hit the sidewalls or roads. So this safety measures will definitely help them and protect them while enjoying their ride!